Pest Chase Bees And Wasps Control in Alexandria VA
There are several different types of bees and wasps in Alexandria VA, ​It's important to know what kind of stinging pest is the cause of concern around your home. Honeybees are beneficial insects and we dont want to harm them in any way. However, yellow jackets and hornets and paperwasps can be aggressive and can be a cause of concern to your family and pets. Many people are allergic to bee and wasp sting and it may be essential to know what type of wasp you are dealing with. We recommend having a wasp exterminator to take care of the stinging pests.
Call Pest Chase
Carpenter Bee in Alexandria VA
Carpenter bees are about 1 inch in length, and are often mistaken for bumble bees. A carpenter bee has shiny, hairless, black abdomen, while bumble bees are fuzzy all over. Carpenter bees are also known as wood bees, since they burrow into and nest in wood. They don't actually eat the wood, but the female bees chew through it to make nests. They make holes in the wood damaging your property. These holes can weaken the structure over a period of time. These bees do not live in colonies.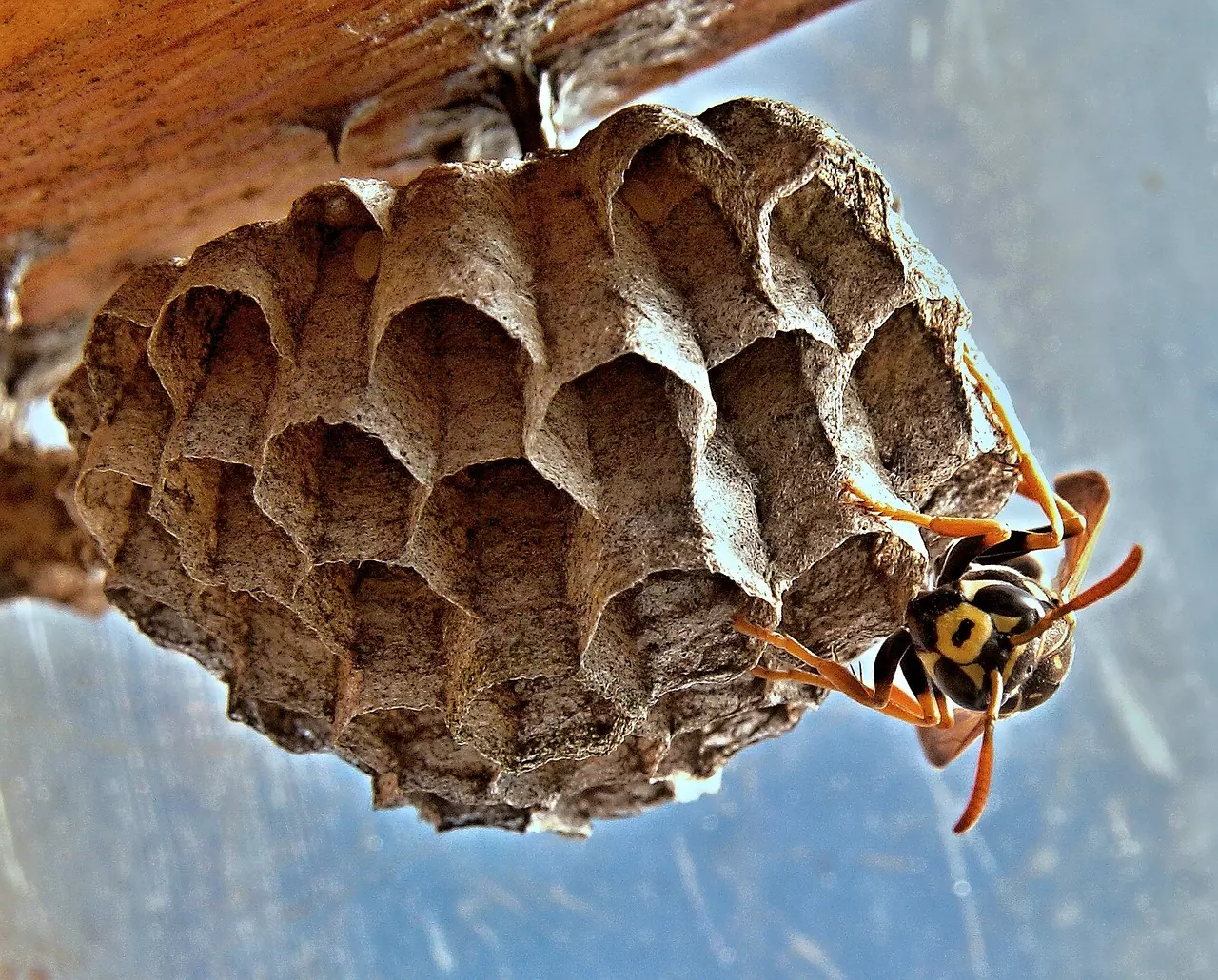 Paper Wasps in Alexandria VA
Paper wasps look similar to yellow jackets, but have a thin waist. They are mostly brown with some yellow coloration. Some species of paper wasp may have different colors like red, or even brighter colored lines compared to others. Paper wasps get their common name from the paper-like material out of which they make their nests. Paper wasps are sometimes called umbrella wasps, after the shape of their distinctive nests. These are social insects and live in colonies.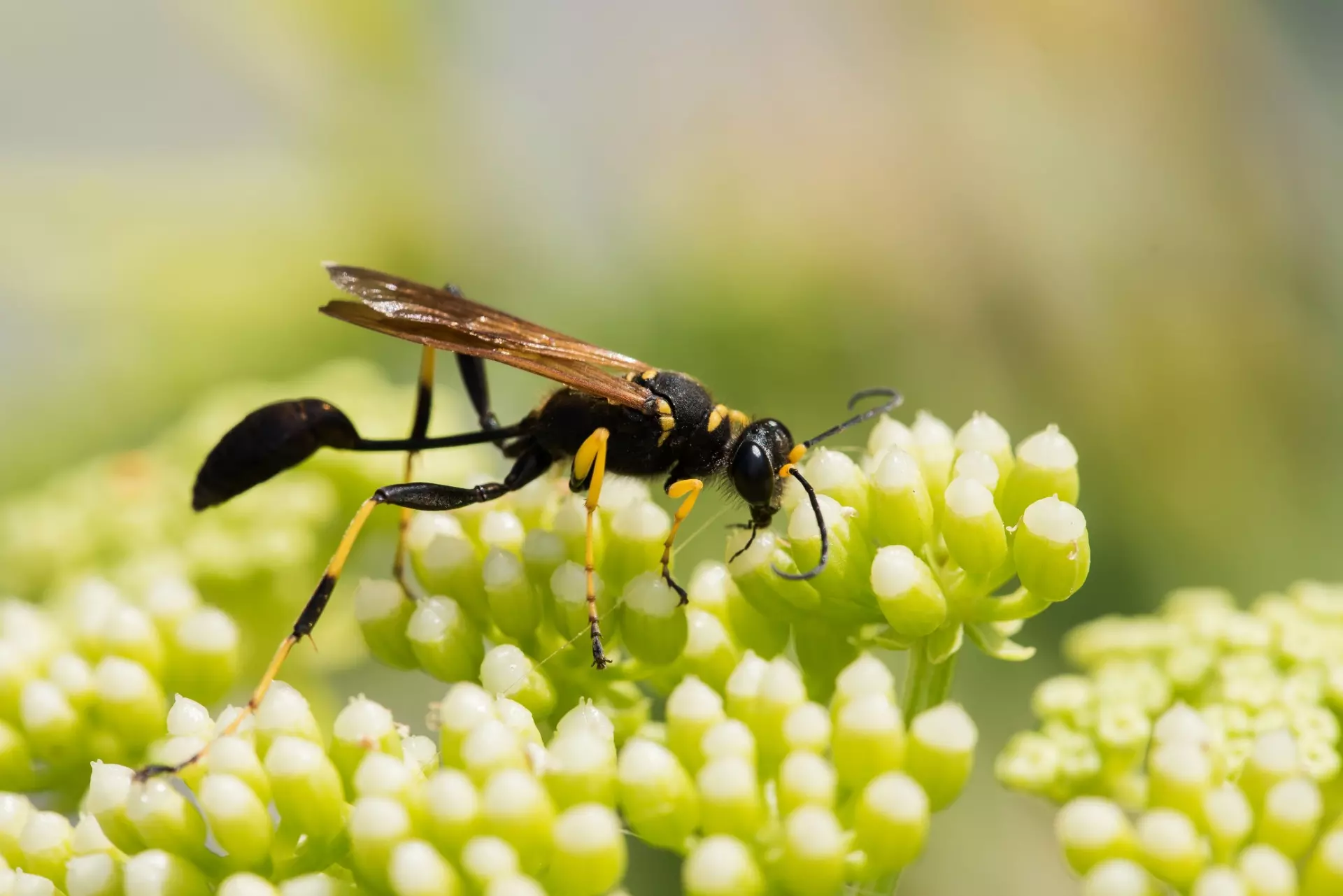 Mud Dauber Wasp in Alexandria VA
Mud daubers are solitary wasps and do live colonies like yellow jackets. They overwinter in their nests as larvae and emerge as adults in the spring. Mud daubers are usually black, but they may have pale markings and has a long, slender segment between the thorax and abdomen. Finding a nest is the most common sign of a mud dauber infestation. The female black-and-yellow mud daubers will construct their nests of many short mud tubes measuring about 1" long that are built side-by-side.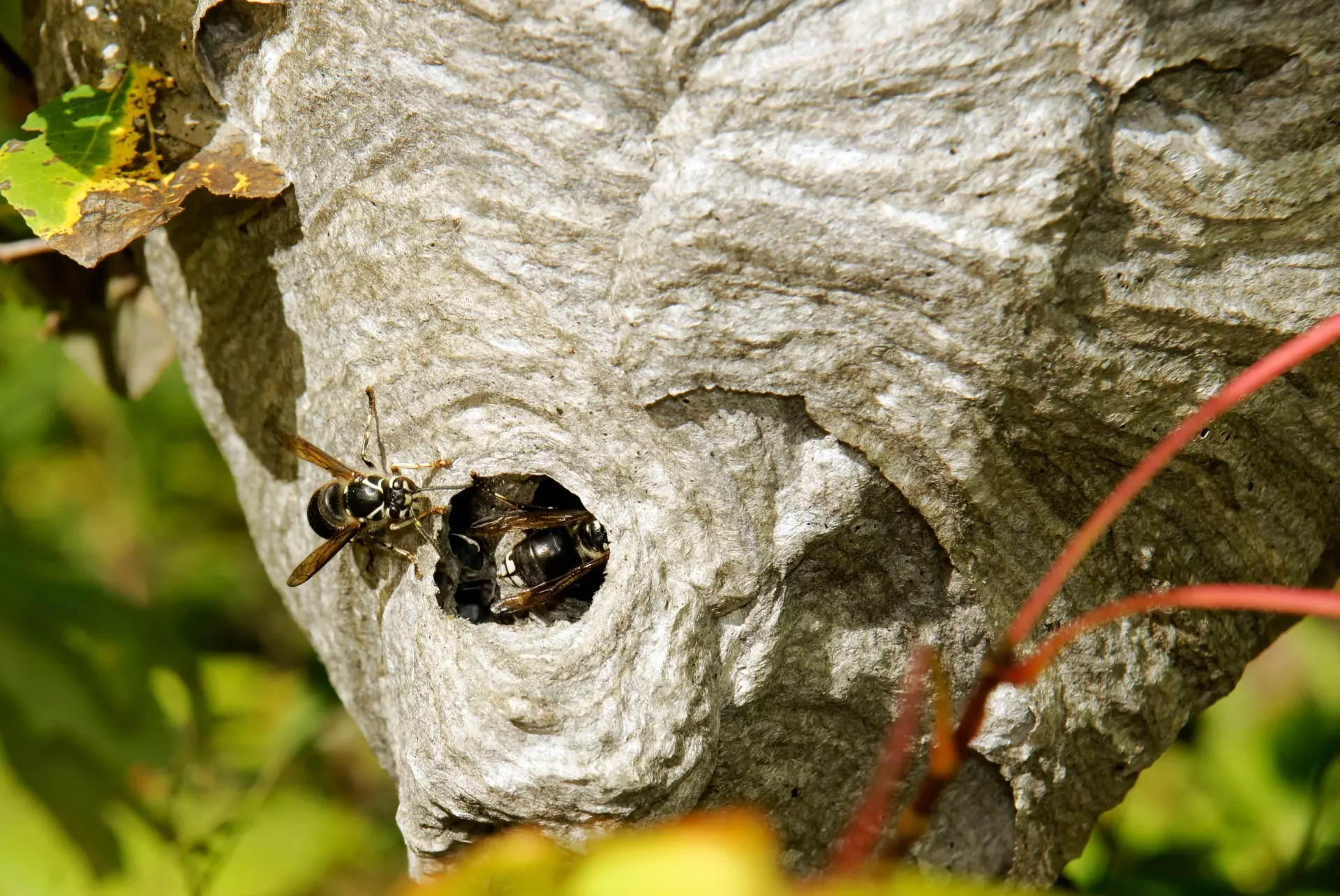 Bald Faced Hornets in Alexandria VA
Bald-faced hornets Bluish-black with white markings on its face, thorax and abdomen. They are about an inch long. This hornet constructs paper nests made from wood harvested from logs and trees. The nest of the bald-faced hornet will take on a football shape, growing larger with time. Some nests may measure up to 2 feet in length and contain hundreds of worker wasps. The nests last for one year. Each year in the fall, a hornet nest produces numerous queens that fly out to find a protected site to overwinter. The following spring, each queen finds a suitable site in a tree or shrub to begin constructing her nest. Hornets will aggressively attack and sting any intruder threatening or disturbing the nest.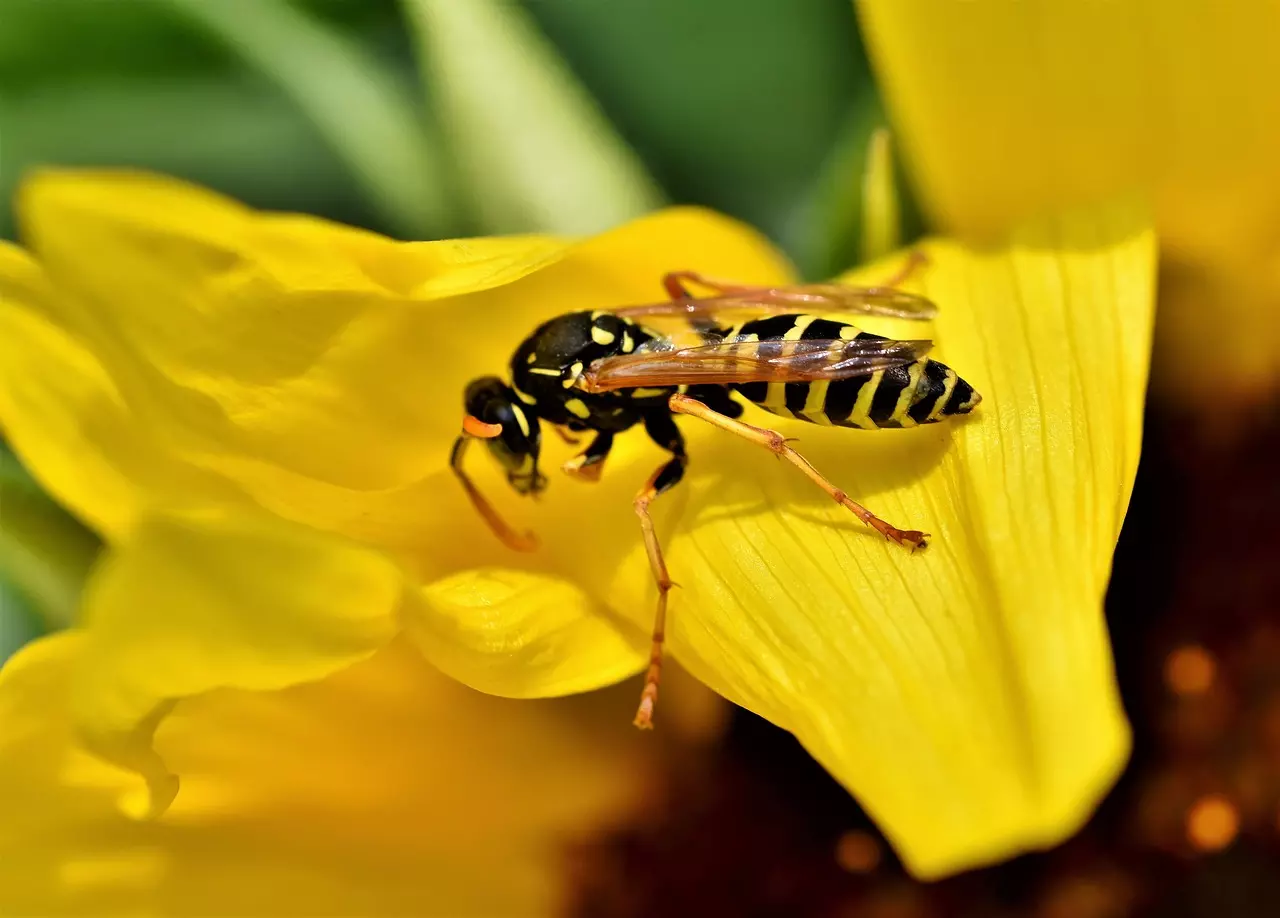 Yellow Jackets in Alexandria VA
Yellow jackets are about 1/2 to 1 inch and small wasps with black and yellow stripes.
Yellow jackets are social insects that live in colonies. Colonies are started by a queen in the early spring, and are very small for the first couple of months. By midsummer, a colony located on or near a house is usually large enough to become a nuisance. These wasps will aggressively attack when their nest is disturbed, and can inflict painful stings. A yellow jacket can sting multiple times. Yellow jackets are scavengers and can be beneficial when located in a wooded area or a field. They pose a threat to people and pets. Contact a pest control professional to take care of a yellow jacket nest.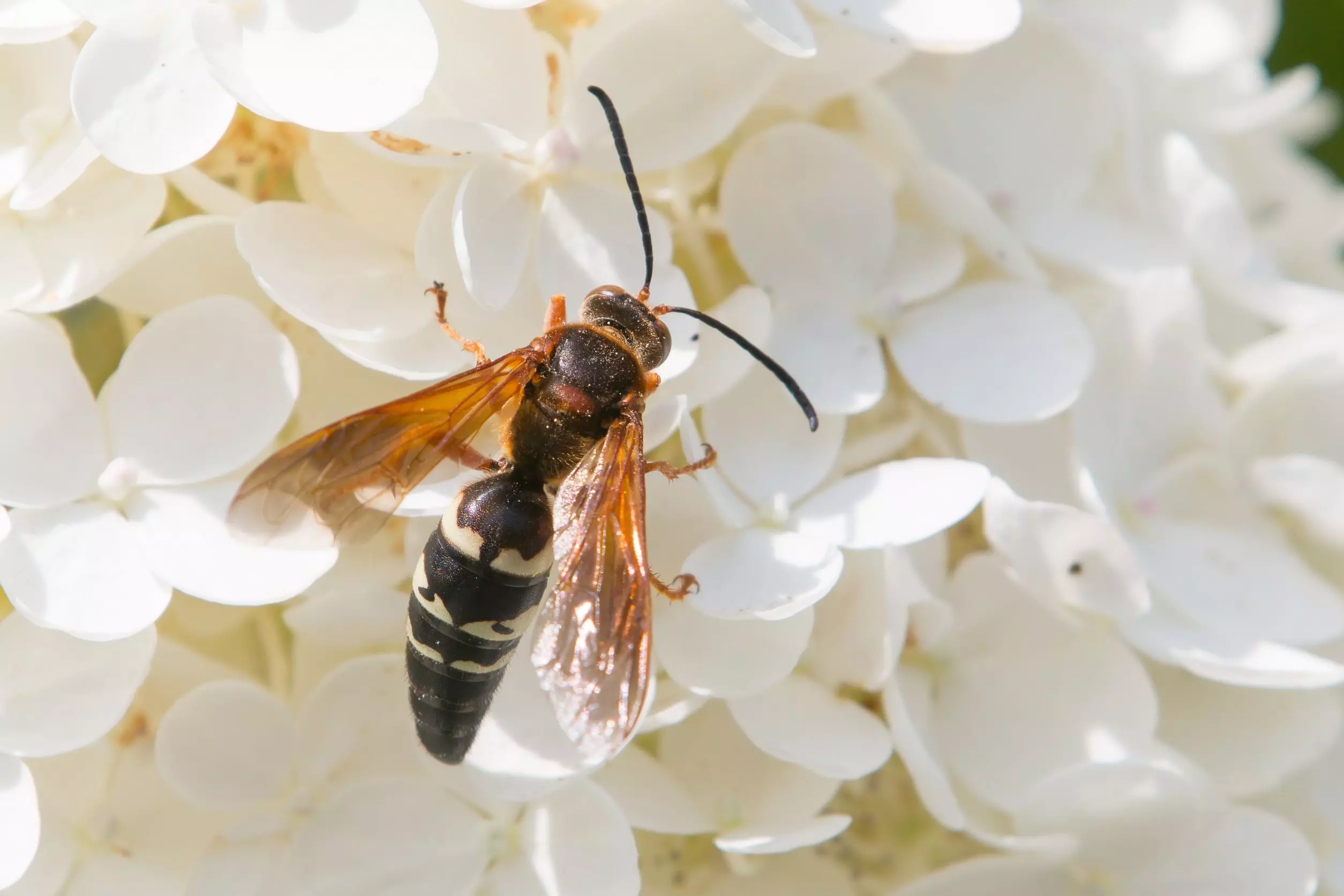 Cicada Killers in Alexandria VA
Cicada killers are big wasps that are black with some yellow markings or stripes. Their eyes can be black or red and are set far apart on their head. Cicada killers are solitary wasps that choose well-drained, loosely packed soils in full sunlight that are near trees harboring cicadas. They may dig in flower beds and lawns. So, if you have things like this around your house, then you probably have cicada killers, too. They bring up soil to the surface as they dig tunnels causing bald spots in your lawn. Other animals like skunk may dig up areas that have been extensively tunneled by the wasps to feed on cicadas and wasp larvae.
Pest Chase Wasp Extermination in Alexandria VA
Wasps are a nuisance pest that pose a threat to our family. We also offer wasp extermination service. However, these wasps tend to build another in the similar location as spring is the time when queen wasps are flying around looking for suitable are to build a nest.
Pest Chase Bee Extermination
Honey Bees are essential insects and we do not want to harm them in anyway.
We offer carpenter bee extermination service. We treat the carpenter bee exit holes with insecticide. Carpenter bee extermination is important as the exit holes can eventually weaken the structure.
Pest Chase Wasp nest removal in Alexandria VA
As part of our wasp extermination plan in Alexandria VA we also knock down the nest and remove it from your premises.
Home owners guide on bees and wasps control in Alexandria VA
How did carpenter bees get into my yard?
Carpenter bees feed on nectar and pollen. If you have lots of flowers in your yard, you will attract in all kinds of bees. They also search for a good location to create their nest tunnels. They love old fences, decks, sheds, and other structures have not been stained or painted. So, if you have any of those, your home will be attractive to carpenter bees.
How did I get hornets?
Hornets are attracted to trash, sweets, and dead animals, A soft drink can outside can often be seen with a hornet on it. Make sure you clean up spills and throw away all trash. After a bbq, look for any pieces of meat that may have dropped and clean up the area. Hornets feed on meat and on dead animals, so if there's a carcass nearby, you can have it removed from your property.
How did I get yellow jackets in my yard?
Yellow jackets in your house after winter are probably originating from a nest in a wall of the house. If the nest has been in the wall since spring. Yellow jackets inside may sting if the temperature if feel their nest is threatened. Yellow jackets rely on protein to survive and feed their young, and they'll build nests anywhere they can find it. So, having a nest outside is just a fact of life! If you have flies, caterpillars, spiders, or other insects on your property, yellow jackets will arrive to feast on those favored food sources. These wasps are extremely terrritorial.
Cities we serve near Alexandria VA